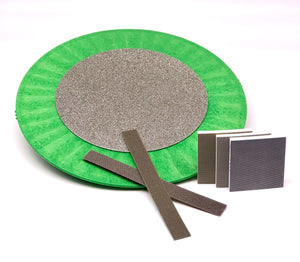 Ultimate Diamond Grinding & Sanding Set 1 (B2, B5, C3, F11, J12, M6)
Regular price
$338.00
$0.00
Unit price
per
Tax included.
Shipping
calculated at checkout.
Don't miss your chance on an all-in-one cost-saving package! This assortment of grinding and sanding pottery tools brings together everything you need to smooth, sand, and polish your projects. The Ultimate Diamond Grinding & Sanding Set includes: 
3 Flexible Diamond Sanding Pads with Square Corners 
2.5" X 2.5" flexible foam-backed pads with diamond grit and 1/4" foam backing provide ease of use
Grits available: 400 (extra fine) for smoothing, 800 (ultra fine) for polishing, & 1500 (ultra fine) for further polishing
2 Flexible Diamond Sanding Strips 
3/4" x 7" flexible diamond grit strips
Full-flexible cloth-backed diamond sanding strips
Grits: 120 & 400
8" Diamond Grinding Disc on 12" Bat
8" Diamond Grinding Discs — "POTSAVERS" — on 12" bat
Adhesive-backed metal plate with diamonds fused on
Diamond grit has a 7000 hardness rating (silicon carbide abrasive is only rated at 2400 hardness)
Rigid plastic bat has both 9" and 10" bat pin spacing
60 grit - coarse - heavy glaze or high-fired clay removal
CAUTIONS:
Use all safety precautions
Always use safety goggles
Be certain that debris does not get into moist, usable clay
Carefully clean splash pans to remove all sharp debris
Always use with water to maximize tool life and control dust
Do not attempt to force grinding or sanding
Keep out of the reach of children
Technique note: Always use water, high speed and gentle pressure. "Let the diamonds do the work." Overheating the tool will decrease tool lifespan.
---