Sajo Ceramics Studio & Pottery Supplies
Located in the foothills of the Dandenong Ranges, come out to our city-meets-country studio and experience the fun of clay creation.
Join us for an ongoing casual pottery class or book a "Taster" session to have a go at the pottery wheel. Established potters are welcome to use our Melbourne studio facilities on a casual basis, just book in online!
Shop our vast range of pottery supplies both instore and online. We have everything you need, from clay and glazes to tools and equipment.
New Mayco 2023 Glaze Colours available soon! You can pre-order your starter kit here:
Individual Colours available here.
Visit our sister studio Lillypilly Pottery to purchase and order bespoke ceramics. Wholesale available.
Classes & Workshops
We're passionate about what we do and we want to share it with you! We offer a number of class types with morning, afternoon and evening sessions available.
Our online booking system makes it easy to find and book the best class for you!
Book Online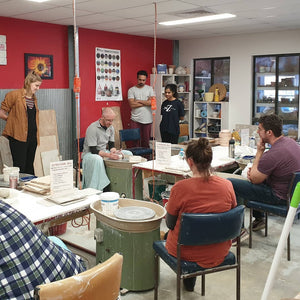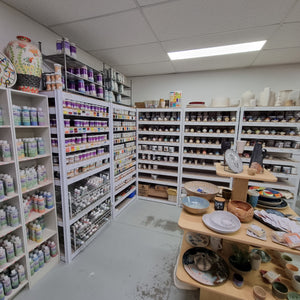 Shop Online & In-Store
Purchase supplies from our huge range of clays, glazes, tools and equipment.
Explore our catalogue of tile blanks and ceramic pieces to paint in both acrylic paints and and glases. All made to order - great for community and school projects.
Shop Now
Studio Access & Firing
Sajo welcomes you to enjoy the studio and all we have to offer!
The studio equipment includes a slab roller, extruder and Venco pottery wheels. We have an extensive range of tools and student Earthernware/Stoneware glazes on hand. Other glazes are available for purchase including Mayco, Cesco and Duncan brands.
We offer a firing service from earthernware to stoneware for all pottery and ceramics.
Learn More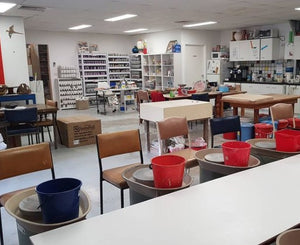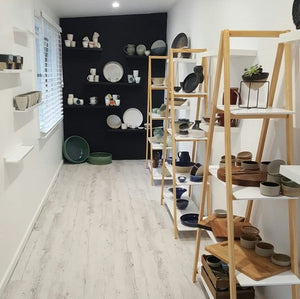 Lillypilly Pottery
Check out our sister studio - Lillypilly Pottery. At Lillypilly we create a wide range of bespoke handmade pieces that are both functional and beautiful.
Our creations can be purchased online or through our gallery onsite at Sajo. We also produce made to order, custom ranges for businesses and designers with wholesale available.
Visit Lillypilly Pottery
Find Us
11 Lillypilly Lane,
Kilsyth South VIC 3137
Opening Hours:
Mon - Thurs: 9.30am to 8.30pm
Friday: 9.30am to 3pm
Saturday: 9.30am to 4pm