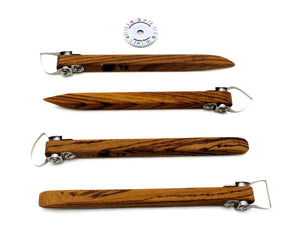 Trimming Tool Set 2 (T5, T6, T7, T8, S4 XS)
Regular price
$279.00
$0.00
Unit price
per
Tax included.
Shipping
calculated at checkout.
When it's time to trim your pottery piece to reveal its best form, you'll have everything you need with one of our new Trimming Tools Sets. This DiamondCore Tools set features four of our popular trimming tools curated especially for working on larger pieces. Remove material from larger surface areas quickly and easily! 
Plus, our new XS Pottery Trimming Spinner is the perfect companion tool. Rest it on the center of the bottom of your piece while trimming and apply pressure with the opposite hand of your trimming hand. This little spinner provides surprising stability, and its colored hashmarks can help you divide a foot in even segments. Get one of these Trimming Tools sets in your hands today!
DESCRIPTION: 
Trimming Tools Set 2 includes the following:

T5 Torch Pottery Trimming w/Talon Handle
T6 Spade Pottery Trimming Tool w/Boat Handle

T7 Avocado Pottery Trimming Tool w/Flat Round Handle
T8 Wedge Pottery Trimming Tool w/Flat Head Handle
1 extra blade for each trimming tool
S4 XS Pottery Trimming Spinner

Reverse end of handle is designed to provide additional shaping options
Wood grain may vary
USES/BENEFITS:
High-performance pottery wheel trimming
Shave off thin rounded ribbons
Smooth transition from foot to pot
Also great for carving, shaving, sculpting and scraping
Blades are stainless steel and never need sharpening
Blades are the same sharpness on both sides, right- or left-handed
Trimming Spinner provides stability and helps create divisions on foot
---