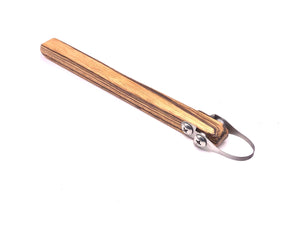 T4 U Tip Trimming Tool w/ Rounded Edge Handle
Regular price
$102.00
$0.00
Unit price
per
Tax included.
Shipping
calculated at checkout.
Trimming just got more enjoyable.  We used the same technology that made our Zebrawood carving tools so enjoyable and developed trimming tools. These beautiful tools are specifically designed for artists who enjoy the finer points of trimming.  They contain many of the features artists have been asking for which weren't previously available. 
The T3 Slanted Square features:

          Extremely sharp blade every time you use it
          Self-sharpening blades which only get sharper with each use
          Replaceable Blades - spare blade sets are available 
          Durable stainless steel blades which can't rust or shatter
          Unique optimized blade design to reduce chattering
          Rough-sanded, handles for better grip and less fatigue
          12mm Squarish-shaped handles for improved control          
          Also great for carving, shaving, sculpting, scraping and more
          The feel of a high performance tool but without the price tag 
          Currently each tool comes with one free spare blade
          Beautiful exotic hardwood handles 
The "Slanted Square" is 15mm wide with a straight but sloped front edge.  It can be used to shave off large, thin ribbons giving users more leverage while trimming, allowing a straight cut with ease.  The slanted tip allows a flat cut and/or the ability to get down into the corner of a foot. The end of the handle on this tool is shaped to a unique 4 mm square tip for a bonus sculpting tool.   
Use all appropriate safety precautions.  Keep out of the reach of children.  Wood grain colors may vary.  Handmade in USA.
---