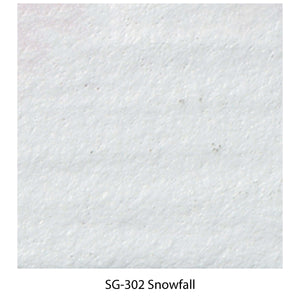 Mayco Specialty Glazes Snowfall (Fired) - 118ml and 473ml
Regular price
$22.50
$0.00
Unit price
per
Tax included.
Shipping
calculated at checkout.
Snowfall is a dimensional glaze that creates a white, textured surface. As the name suggests, Snowfall can be used to mimic snow such as on Christmas Trees. But it can also be used as a textured glaze to create design. 
Mix well. Apply 2 or more coats over unfired glazes, shelf cone 04 bisque (1060°C), greenware or clay. Can be applied with a soft brush or sponge. For dimensional effects, apply using a Writer Tip. Fire to shelf cone 06 (999°C). Can be applied with a soft brush, sponge slip trailer, or writer tip for texture variations.
Although Snowfall was designed to be fired to cone 06, Snowfall may be fired to higher temperatures to add a puffy texture to mid-range fire designs. Snowfall will perform the same in mid-range firings.
Please note: We keep limited stock of this item.  Should stock be exhausted, this item may be subject to a delivery time of up to 4 weeks.

Firing range: Shelf Cone 06 - 999C
---