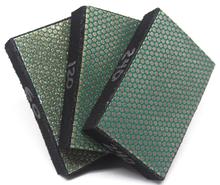 Diamond Core Tools Semi Flex Diamond Pads
Regular price
$47.00
$0.00
Unit price
per
Tax included.
Shipping
calculated at checkout.
Diamond grit on these 1.75″ x 2.75″ pads will smooth off high-fired glaze or clay quickly and much more easily than any other type of sandpaper or abrasive. They have a 1/2″ thick semi-flexible pad for wet or dry use on bisque or high-fired clay, glaze, tile, stone or glass. Great for smoothing off grit or glaze, or whatever is stuck to the bottom of a piece after firing. Or smooth off the bottom of a piece so it won't scratch a wood or glass tabletop or snag a fabric tablecloth.  Sanding with diamond grit requires much less force, many fewer hand strokes… which translates into far less fatigue and joint/muscle strain………. and much less time sanding. These pads are very economical and have extremely long service life.
60 grit (coarse) for rough heavy clay or glaze, 120 grit (medium) general purpose, 240 grit (fine) for final smoothing.
Use all appropriate safety precautions.  Keep out of the reach of children.   Made in USA.
---