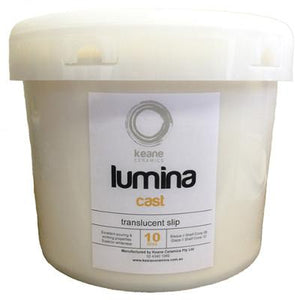 Keanes Lumina Porcelain Slip
Regular price
$118.50
$0.00
Unit price
per
Tax included.
Shipping
calculated at checkout.
Keane Lumina is a beautiful crisp white porcelain.  They have used the most expensive micro-fine iron-free bentonite with the brightest firing kaolins. The result is a silky smooth white body with a glossy finish.
Lumina is a true porcelain, so firing accurately is important. It vitrifies at cone 10, the absorption is zero. Thin pieces will be amazingly translucent. In reduction it is a unique blue-white colour.  The glaze fit is excellent for a true porcelain.
Recommended firing temperature is cone 10.
Shrinkage at cone 10 oxidation is 14.6%
Shrinkage at cone 10 reduction is 14.8%

Firing Range: 1000-1250c
---