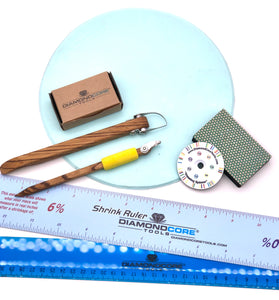 DiamondCore Explorer Pottery Carver Set (T1, P1, S1, S4, A2, SR, P1-2)
Regular price
$259.00
$0.00
Unit price
per
Tax included.
Shipping
calculated at checkout.
Save big with our Explorer Pottery Carver Set, a true must-have for artists! Don't miss this offer on some of our most popular pottery tools bundled together. This set includes a wide variety of essential ceramic tools, including:
T1 Half Dome Trimming Tool w/ Paddle Handle

P1 Curved V Tip Carving Tool

S1 Sticky Pad 

S4 Pottery Trimming Spinner

A2 Semi-Flexible Diamond Pad, 120 grit

SR Shrink Ruler (double-sided)
T1 Half Dome Trimming Tool w/ Paddle Handle
17 mm-wide, half-dome shaped pottery trimming tool
Blade has both a round side and a crisp straight corner 
Paddle-shaped handle provides a bonus smoothing tool
12 mm x 12 mm x 16 cm beautiful hardwood handle 
Blade never dulls; optimized to reduce chattering
P1 Curved V Tip Carving Tool
"V" Tip curved blade
Used for carving clay ("beak down" position) and sgraffito ("beak up" position)
Ideal for fine, clean straight or arched lines
5" beautiful hardwood handle
Features a comfortable foam grip 
S1 StickyPad - Gripping Pad
8"-diameter (20.32 cm) pottery sticky bat
8 mm-thick mat of rubberized material
Ideal for gripping greenware and low-profile pieces for trimming; keeps pieces stable       
Makes it easy to draw centering rings on the surface using a ballpoint pen
Good for working with bisque, leather-hard or bone dry clay
S4 Pottery Trimming Spinner
Goes on the bottom of a pot or mug while trimming; the potter's left hand rests in the concave center allowing the potter to stabilize their trimming hand 
Wider footprint helps to disperse downward pressure and prevent collapsing
Division marks provide quick reference for markings
Semi-Flexible Diamond Pad 
Diamond grit pads 1.75″ x 2.75″ pads 
Semi-flexible foam-backed pads with diamond grit
1/2" foam-backing "workhorse" pads
Strong 120 (medium) diamond grit perfect for general use; works faster than sandpaper
Ideal for smoothing high-fired clay, glaze, bisque, tile, stone or glass 
Double-sided Shrink Ruler
An innovative way to measure the shrinkage of your clay 
Flexible, two-sided plastic ruler has four clay shrinkage percentages (14%, 12%, 10% and 6%) to help matching lids to bowls, etc. 
---