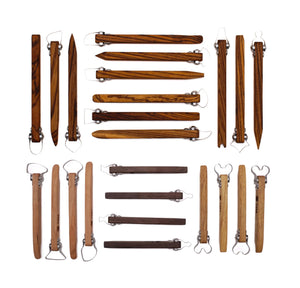 Diamond T Tool Set 3 (T1-T12,T101-T104, T201-T204, T301-T304, 3-Piece Finger Brush Set)
Regular price
$1,526.00
$0.00
Unit price
per
Tax included.
Shipping
calculated at checkout.
The ultimate product collections from DiamondCore® Tools just added some new players to the mix! Our Diamond Sets — which include one of every clay carving, extruding, fine-point and fluting tool we offer — now welcome two additional sets featuring our expanded line of T Series pottery trimming tools.
With the introduction of 12 new, specialized trimming tools for ceramic artists, we've created the incredible Diamond Trimming Set. The new T Series Diamond Set 3 features our T Series of Trimming Tools, our T100 Series Extra-Small Trimming Tools, our T200 Series Extra-Large Trimming Tools and our T300 Series Feature Trimming Tools.
With 24 stainless-steel blade shapes that feature a wide variety of shapes and sizes, the T Series Diamond Set 3 will take your trimming game to the top tier of your art. Add these unique and innovative trimming tools to your collection today!
DESCRIPTION:
Includes 24 tools: 1 of every T Series trimming tool, plus 4 extra-small, 4 extra-large and 4 feature trimming tools
Each T Series and T200 Series tool in this set tool comes with one free spare blade
Each T100 Series tool in this set tool comes with two free spare blades
Diamond set comes with free 3-Piece Finger Brush Set 1
All tools packed in multiple, protective, environmentally friendly boxes
Protective boxes packed in 1 sleek, elegant gift box
Gift box features festive ribbon and blank notecard to add your message

Box size approximately 15 inches X 10 inches X 5 inches
Wood grain of tools may vary

Ribbon color on gift box may vary
USES/BENEFITS:
High-performance pottery wheel trimming
Shave off thin ribbons
Smooth transition from foot to pot
Also great for carving, shaving, sculpting and scraping
Stainless steel blades never need sharpening
Blades are the same sharpness on both sides, right- or left-handed
---