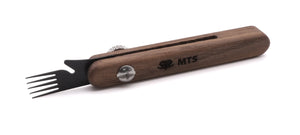 Diamond Core Scoring Tool
Regular price
$52.00
$0.00
Unit price
per
Tax included.
Shipping
calculated at checkout.
DiamondCore's Scoring Tool is the practical and petite accessory every potter needs.
When attaching handles to cups, feet to platters, or extensions to sculptures, this simple Scoring Tool is a must-have. Its five-pronged blade mimics a hand, creating rough edges for a strong clay bond. 
You can also use the parallel scoring tips to add texture to your work. The hardwood handle ensures a comfortable grip.
Laser-engraving personalization makes our Scoring Tool a great gift for the ceramic artist in your life or a practical treat for yourself. 
DESCRIPTION 
Extendable, coated, stainless steel scoring blade (20 mm; 0.8 in.)
Five parallel 1 cm (0.4 in.) scoring prongs
Attached to 8 cm (3.1 in.) hardwood handle
Fully extended tool (handle and scoring blade) is about 10.5 cm (4.1 in.) long
Adjustable thumb screw
Wood grain may vary
USES/BENEFITS
Easily scratch or roughen clay for points of attachment
Create more secure connections with slip
Texturize clay surfaces as part of your design
Coated, stainless steel scoring blade stays sharp
Thumb screw allows for the scoring blade to be opened and secured
Replacement scoring blades are available
---