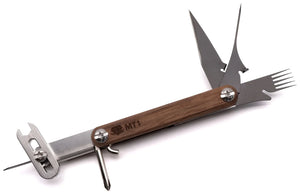 Diamond Core Bird of Paradise Pottery Multi Tool
Regular price
$164.00
$0.00
Unit price
per
Tax included.
Shipping
calculated at checkout.
The Bird of Paradise Pottery Multi-Tool is an all-in-one pottery multi-tool that has been cultivated specifically to both simplify and enhance the work of ceramic artists. Its slim and stylish design includes all of the following:
Pottery Knife

Needle Tool

Scoring Tool

Precision Blade

Mini-Wrench

Cutting Guide

#1 Phillips Screwdriver
Whether you're hand-building or wheel-throwing — you'll have all these studio essentials in one convenient place!
DESCRIPTION 
Unique pottery multi-tool combining 7 essential ceramics tools in one place

12 mm (4.75 inch) hardwood handle with internal, stainless steel frame

Extendable, stainless steel pottery knife (45 mm; 1.7 in.)
Extendable, stainless steel needle tool (40 mm; 1.5 in.)
Extendable, five-prong, stainless steel scoring tool (17 mm; 0.6 in.)
Extendable, stainless steel precision blade (17 mm; 0.6 in.)
Notch guides for 30-, 45-, 60- and 90-degree angled cuts
Extendable, stainless steel, quarter-inch mini-wrench and cutting guide (35 mm; 1.4 in.)
Extendable, #1 Phillips screwdriver (25 mm; 1 in.)
Adjustable thumb screw to position wrench and precision blade
Wood grain may vary
USES/BENEFITS
Pottery knife:

 

Easily cut leather-hard clay
Needle tool:

 

Slice an even top on a wheel-thrown vessel; poke holes in leather hard forms
Scoring tool:

 

Scratch clay surfaces to connect them with a more secure bond
Precision blade:

 

Good for small detail cutting; trim edges at precise angles
Thumb screw:

 

Adjustable position of wrench and precision blade
Cutting guide/mini-wrench:

 

Helps guide you to cut straight and/or angled edges; creates equal spacing for offset cuts
Phillips screwdriver:

 

Fits screw on all DiamondCore P, FP, R, T and X tools
Mini-wrench:

 

Fits nuts on all DiamondCore P, FP, and X tools
Replacement blades available
---