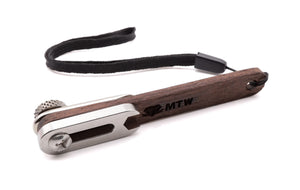 Diamond Core Mini Wrench Driver
Regular price
$41.00
$0.00
Unit price
per
Tax included.
Shipping
calculated at checkout.
The Mini-Wrench Screwdriver is your go-to tool for adjusting DiamondCore tools and other pottery equipment. It features a fold-out #1 Phillips Screwdriver tip for tightening screws, which conveniently tucks back into the hardwood handle to save space.
Additionally, the ¼ inch wrench is perfect for tightening nuts on our carving, fine-point, and fluting tools. You can easily set your preferred angle by adjusting the thumb screw.
A 13.5 cm (5.5 in.) nylon lanyard/wristlet keeps this tool even closer if needed.
Laser-engraving personalization makes our Mini-Wrench Screwdriver a great gift for the ceramic artist in your life or a practical treat for yourself.

DESCRIPTION 
Extendable, #1 Phillips screwdriver (25 mm; 1 in.)
Adjustable angle ¼ in. mini-wrench
Attached to 85 mm (3.1 in.) hardwood handle
Adjustable thumb screw
Black nylon lanyard/wristlet
Wood grain may vary
USES/BENEFITS
Tighten the hardware on pottery tools as they become loose with use
Loosen hardware to adjust the angle of a carving blade, then tighten again
Mini-wrench fits bolts on all DiamondCore P, FP, R, T, and X tools
Phillips screwdriver fits nuts on all DiamondCore P, FP, and X tools
Thumb screw allows for positioning wrench and screwdriver in many positions
Lanyard/wristlet keeps the tool close at hand or easy to hang
---