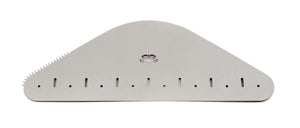 Diamond Core Large Metal Rib
Regular price
$20.00
$0.00
Unit price
per
Tax included.
Shipping
calculated at checkout.
Flexible. Versatile. Essential. Metal ribs are all of these as part of your creative process, from smoothing a large slab of clay to putting the finishing touch on the side of a thrown bowl. This type of tool is always handy, and no ceramic artist should be without one.
Now you can take your art to the next level with metal ribs specially designed by DiamondCore Tools. Our Large Metal Rib features straight edges, scoring teeth, curved corners, centering holes, measurement divisions and a crisp center logo cutout. With so many features and functions, this smaller tool offers a big economic value to every potter.
DESCRIPTION: 
Wide, stainless steel, isosceles triangle metal rib
16.1 cm width by 6 cm height (~6.3 by 2.6 inches)
Flexible, 0.006-inch thickness
3.5 cm fine-tooth scoring section
Curved corners in two angle options
Center hole on curved corners at 1 cm and 5 cm insets
Long edge with holes and line cutouts at 1 cm intervals
DiamondCore Tools logo cutout in center
USES/BENEFITS:
Flat edges to smooth all kinds of surfaces
Curved corners leave no lines while smoothing
Sides of rib can trim excess or cut clay with straight edges
Holes on long edge help measure on the fly
Rounded corners of triangle have varying radiuses
Center hole on corners helps create circles of varying sizes
Scoring edge creates ragged surface necessary for joining sections
Create small or larger scoring surfaces with a few tips or all the ridges
---