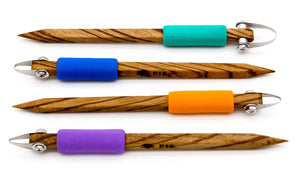 4-Piece Straight Blade U Tip Set (P16, P17, P18, P22)
Regular price
$212.00
$0.00
Unit price
per
Tax included.
Shipping
calculated at checkout.
Don't miss this great offer on four of our amazing straight blade ceramic carving tools. These are must-haves for any ceramic artist. The straight blades are ideal for carving shallower grooves, detailed sgraffito carving, Mishima, sculpting, scraping and so much more. In this four-piece clay carving tool set, you get: 
A P16 Straight U Tip 1mm Carver
A P17 Straight U Tip 3mm Carver
A P18 Straight U Tip 6mm Carver
A P22 Straight U Tip 12mm Carver
All our carving tools feature our durable, stainless-steel blades that never need sharpening. The sharp blades and unique design allow for increased depth control for clean line-work. Purchased separately, these ceramic tools would run you more than $150. This convenient bundled set gets you all of them all for $139! Snag this deal and learn more about each of these great pottery tools below. 
P16 Straight U Tip 1 mm
1 mm "U" Tip straight stainless-steel blade
Beautiful hardwood pencil handle is 5.5" (140 mm) long
Ideal for creating shallow, fine, sgraffito lines and Mishima, sculpting, scraping and more
P17 Straight U Tip 3 mm
3 mm "U" Tip straight stainless-steel blade
5" (140 mm) long hardwood pencil handle provides added control and comfort
Perfect for creating shallow, clean, 3 mm grooves in your pottery
P18 Straight U Tip 6 mm
6 mm "U" Tip straight stainless-steel blade
Durable hardwood pencil handle is 5.5" (140 mm) long
Used for creating shallow, 6 mm, sgraffito grooves
P22 Straight U Tip 12 mm
12 mm U-Tip straight stainless-steel blade 
5" (140 mm) beautiful, handcrafted hardwood handle
Ideal for creating shallow, square, and sgraffito lines in your pottery
---