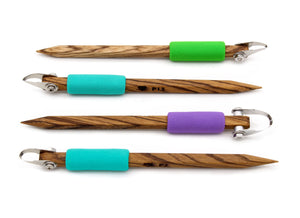 4-Piece Curved Blade U Tip Set (P13, P14, P2, P10)
Regular price
$212.00
$0.00
Unit price
per
Tax included.
Shipping
calculated at checkout.
Don't miss this amazing collection of four popular pottery carving tools from DiamondCore Tools! This set of our U tip clay carving tools is perfect for artists and potters wanting to expand their pottery tool collection. This exclusive set features customer favorites, they are perfect for creating deep grooves and unique designs in your pieces. In this four-piece clay carving tool set, you get: 
P2 Curved U Tip 6 mm Pencil Carver
P10 Curved Wide U Tip 12 mm Pencil Carver 


P13 Curved U Tip 1 mm Pencil Carver



P14 Curved U Tip 3 mm Pencil Carver 
All our ceramic carving tools feature our advanced, never-dull blade technology that makes your ceramic work easier, more efficient, and more precise. Purchased separately, these ceramic tools would run you more than $150. However, when bundled in this great pottery tools deal, you get them all for $139! Learn more about each of these great tools below. 
P2 Curved U Tip 6 mm Carver
6 mm diameter "U" Tip Curved stainless-steel blade
Hardwood pencil handle is 5.5" (140 mm) for added control and comfort
Great tool for creating clean, smooth 6 mm U-shaped grooves and patterns in your work
P10 Curved Wide U Tip 12 mm Carver
12 mm diameter "U" Tip Curved stainless-steel blade
5" (140 mm) pencil handle provides control and comfort
Perfect for creating fine, clean, rounded 12 mm grooves in your pottery 
P13 Curved U Tip 1 mm Carver
1 mm "U" Tip Curved stainless-steel blade
Gorgeous 5.5" (140 mm) Hardwood pencil handle
Ideal for creating fine, clean straight or arched lines
P14 Curved U Tip 3 mm Carver
3 mm "U" Tip Curved blade
Durable 5.5" (140 mm) pencil handle
Used for creating clean, 3 mm U-shaped grooves in your clay pieces
---