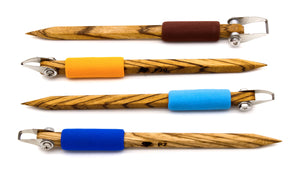 4-Piece Curved Blade Square Tip Set (P20, P15, P7, P23)
Regular price
$212.00
$0.00
Unit price
per
Tax included.
Shipping
calculated at checkout.
Looking for a great deal on pottery carving tools from DiamondCore Tools? Look no further! This 4-Piece Curved Blade Square Tip Set of ceramic carving tools was made for you! The curved blades are perfect for carving deep grooves and navigating tight corners. In this limited-time pottery tool bundle, you'll get:
P7 Curved Square Tip 6 mm Carver
P15 Curved Square Tip 3 mm Carver

P20 Curved Square Tip 1 mm Carver

P23 Curved Square Tip 12 mm Carver
With these four popular pottery carving tools, you'll see how DiamondCore's products stand above others in the industry. Our advanced blade technology never dulls and creates clean lines, crisp edges, and an efficient carving experience every time. If purchased separately, these tools would cost more than $150. By bundling together, you save money and get all four tools for only $139! It's a real deal for these ergonomic and innovative carving tools. Learn more about the tools below. 
P7 Curved Square Tip 6 mm 

6 mm Wide Square Tip curved stainless-steel blade
Durable 5.5" (140 mm) pencil handle
Use this tool for creating clean, square 6 mm grooves
P15 Curved Square Tip 3 mm
3 mm Square Tip curved stainless-steel blade
Beautiful hardwood pencil handle is 5.5" (140 mm) long - ideal for comfort and extra control
Ideal for creating clean, 3 mm square grooves in your pottery
P20 Curved Square Tip 1 mm
1 mm Square Tip curved stainless-steel blade
Durable hardwood pencil handle is 5.5" (140 mm) long
A must-have ceramic tool for creating fine, clean straight or arched lines
P23 Curved Square Tip 12 mm
12 mm Square Tip curved stainless-steel blade 
Handcrafted hardwood handle measures 5.5" (140 mm)
Perfect ceramics tool for creating shallow, square, sgraffito lines
---