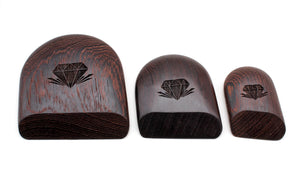 3-Piece Wood Rib Set (WR1, WR2, WR3)
Regular price
$120.00
$0.00
Unit price
per
Tax included.
Shipping
calculated at checkout.
This DiamondCore® Wood Rib Set 1 includes: 

Wood Rib 50 mm

Wood Rib 75 mm

Wood Rib 100 mm
Some other ribs offer fixed shapes, but those designs can also be limiting. Our wood ribs are created to feel like a natural extension of your hand.
Beautifully oiled hardwood rib (wood grain may vary)

Approximately 50 mm wide, 70 mm long, and 13 mm deep

Perfect for opening clay on the wheel, elongating narrow vessels
Beautifully oiled hardwood rib (wood grain may vary)

Approximately 75 mm wide, 85 mm long, and 13 mm deep

Good for all-around wheel-throwing needs, removing clay
Beautifully oiled hardwood rib (wood grain may vary)

Approximately 100 mm wide, 110 mm long, and 13 mm deep

Perfect for elongating a vessel, removing excess material
CARE:
Don't let the wood rib soak in water for long periods

Occasionally apply wood oil to maintain a water-repellant surface
---