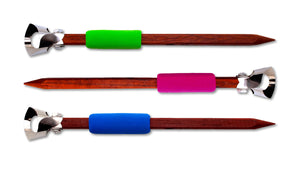 3-Piece Fluting Tools Set 3 (X7, X8, X9)
Regular price
$265.00
$0.00
Unit price
per
Tax included.
Shipping
calculated at checkout.
Our new X Series Fluting Tools are must-haves for potters, creating a variety of convex sidewalls within carved lines in your ceramics The unique, stainless-steel blades flex with pressure, allowing you to control the exact depth and width of both straight and curved lines. It may seem impossible, but the lines you'll create in clay are both smooth and crisp. Get a 3-piece bundle of our new fluting tools and see the soft, sleek lines for yourself.  

The DiamondCore® Fluting Tools Set 3 includes: 
X7 6 mm Square Fluting Tool

X8 Double U Fluting Tool

X9 Double V Fluting Tool

Each tool comes with an additional blade
If purchased separately, these tools would cost $126. Save money by bundling them and get this set for $109! Learn more about each of these tools below. 
Fluting tool with tip that creates a 6-mm square valley at the base of the line




Designed to create smooth-sided grooves with clean edges

Hardwood pencil carver; 5.5-inch (140 mm) pencil-type handle
Fluting tool with a double U shape inside the tip




Designed to create smooth grooves and a double U shape in the valley

Hardwood pencil carver; 5.5-inch (140 mm) pencil-type handle
Fluting tool with a double V shape inside the tip




Designed to create smooth grooves a double V shape in the valley

Designed to create smooth, curved V-shaped grooves with clean edges

Hardwood pencil carver; 5.5-inch (140 mm) pencil-type handle
---