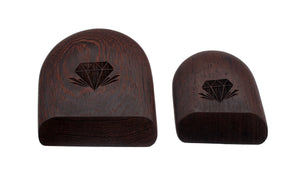 2-Piece Wood Rib Set 3 (WR2, WR3)
Regular price
$92.00
$0.00
Unit price
per
Tax included.
Shipping
calculated at checkout.
This DiamondCore® Wood Rib Set 3 includes: 
Wood Rib 75 mm

Wood Rib 100 mm
Whether using the rounded sides or the straight, slanted edge, these tools put boundless ideas at your fingertips. Plus, the engraved patterns on both sides offer more versatile spots to grip the rib in wet conditions.

Beautifully oiled hardwood rib (wood grain may vary)

Approximately 75 mm wide, 85 mm long, and 13 mm deep

Good for all-around wheel-throwing needs, removing clay
Beautifully oiled hardwood rib (wood grain may vary)

Approximately 100 mm wide, 110 mm long, and 13 mm deep

Perfect for elongating a vessel, removing excess material
CARE:
Don't let the wood rib soak in water for long periods

Occasionally apply wood oil to maintain a water-repellant surface
---